PSB Speakers releases three new finishes for the Alpha iQ, all-in-one wireless bookshelf speakers featuring built-in streaming and amplification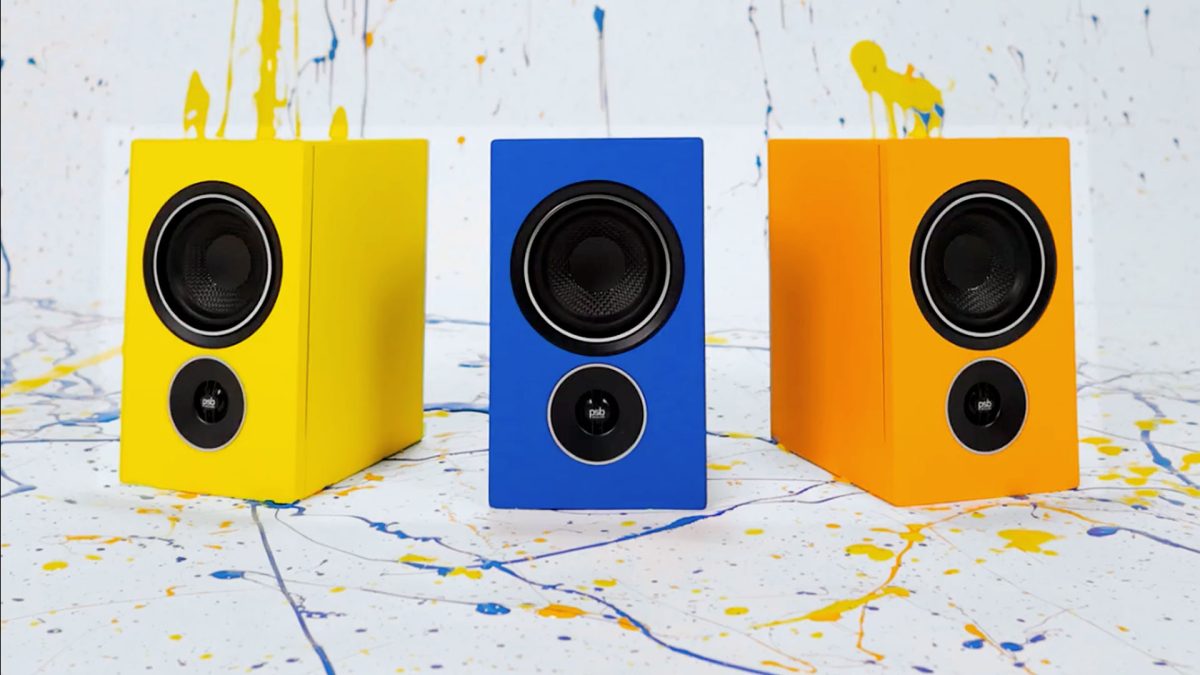 TORONTO, CANADA, JULY 20, 2023 – PSB Speakers, makers of award-winning, high-fidelity loudspeakers since 1972, announces three new finish options for the Alpha iQ, Streaming Powered Speakers with BluOS™: Tangerine Yellow, Midnight Blue and Dutch Orange. The Alpha iQ are the brand's first wireless streaming bookshelf speakers that integrate control, source and amplification in an all-in-one system. All five finishes of the Alpha iQ are now shipping and available in North America to order on PSBSpeakers.com or participating retail locations for US$1,299 / GBP£1,099 / EUR€1,399 / CDN$1,699.
New Bold Colours, Same Natural Sound
The three new finishes of the Alpha iQ: Tangerine Yellow, Midnight Blue and Dutch Orange make a bold statement in any living space and contrast the Alpha iQ's minimal, understated industrial design. The coloured speakers will harmonize well with vibrant rooms while also offering a refreshing accent to any neutral space. Although the Alpha iQ colours exude a bold aesthetic statement, their sound remains faithful to the signature 'True to Nature' voicing of all PSB speakers – transparent, natural and non-fatiguing.
Key Highlights of the Alpha iQ
Available in 5 finishes: Tangerine Yellow (new), Midnight Blue (new), Dutch Orange
(new), Black and White
Ultra-compact modern stereo for music lovers
Condenses the traditional stereo system – music player, amplifier, and speakers – into one simple setup
Music streaming from more than 20 integrated streaming services with built-in BluOS multi-room platform
Apple AirPlay 2 support for streaming from iPhones, iPads, and Macs
Ethernet, Wi-Fi, and Bluetooth connectivity
Easily connect a turntable, TV, laptop, USB library, and many other music sources
MM phono, HDMI eARC, optical, and auxiliary inputs
Audiophile-grade DAC with high-resolution audio, 24-bit/192kHz support
4′′ polypropylene mid-bass driver with steel basket and rubber surround
0.75′′ aluminum dome tweeter with neodymium magnet and ferrofluid cooling
*Full list of features can be found on product page.
About PSB Speakers
Since 1972, Founder and Chief Designer, Paul Barton, has been cementing his legacy as an expert in designing and building high-fidelity speakers that incorporate scientific principles in psychoacoustics. Almost 50 years later and now a strategic part of Lenbrook International's global portfolio, PSB Speakers' products are sold in more than 70 markets where the brand sets the standard for "True to Nature" sound and is critically acclaimed for its value-driven and non-fatiguing speaker design. With an expansive suite of products that include audiophile speakers, ANC headphones, powerful and musical subwoofers, and a family of installed speaker solutions, PSB Speakers is designed and built to bring life to recorded music at world class levels.

Contacts
Corporate Contact
June Ip
Marketing
media@psbspeakers.com
US Media Relations
Jeff Touzeau (OLEX Communications – US/Canada)
914-602-2913
jeff@olexcommunications.us
UK Media Relations
Steve Dalton (OLEX Communications – UK)
+44 (0) 7748-117-864
steve@olexcommunications.co.uk
Links
Website: https://psbspeakers.com
Media Toolkit: https://brandlibrary.lenbrook.com/galleries/5459c256-32b5-49ee-9a2b-c1173d5ff662_e4c09636-3bef-4294-ad0b-e2823c5d28f0-ExternalUser
Facebook: https://facebook.com/psbspeakers
Twitter: https://twitter.com/psbspeakers
Instagram: https://instagram.com/psbspeakers