Wireless Headphones
Dive deep into the music and be transported by True-to-Nature sound
Wireless Headphones
Dive deep into the music and be transported by True-to-Nature sound
Wireless Headphones
Dive deep into the music and be transported by True-to-Nature sound
M4U 9
ULTIMATE COMFORT. PREMIUM SOUND.
The premium M4U 9 Wireless ANC Headhpones are upgraded with larger earpads, ergonomic comfort, aptX℠ and an extended playtime of 32 hours for a luxe mobile listening experience

Bluetooth Pairing
Transparency Control
Active Noise Cancellation
Wireless
1/8" Stereo Jack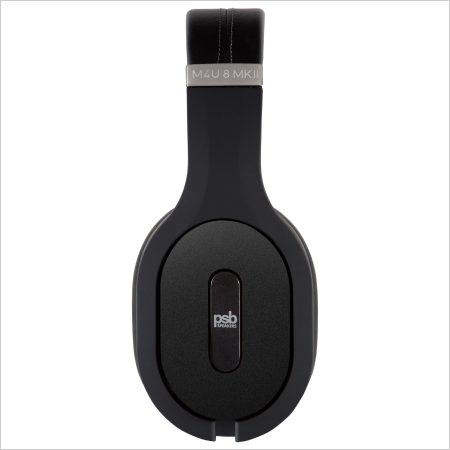 M4U 8 MKII
HIGH PERFORMANCE LISTENING, UNLOCKED.
PSB's classic M4U 8 MKII headphones immerse you in high-fidelity sound with RoomFeel™ realism, custom calibration by Audiodo™, and active noise cancellation. Now available in Espresso Brown

Bluetooth Pairing
Transparency Control
Active Noise Cancellation
Wireless
1/8" Stereo Jack
M4U TWM
POWER IN THE DETAILS.
The True Wireless Micro Planar Earphones leverage adaptive technologies and state-of-the-art drivers to deliver smooth, studio-quality sound with minimal distortion, crisp highs, natural midrange and deep, lush bass.
Bluetooth Pairing
Transparency Control
Wireless
IP65 sweat and dust resitant
Smart Charging Case
Download the App.
Dial into Your Sound.
The full-featured PSB Headphones app give you full access to Audido's custom calibration test, transparency settings, software updates and more.
No two people hear the same way. In fact, your right ear even hears something different from your left. Your unique neurological patterns affect the way sound is perceived from your ears to your brain. The PSB Headphone app allows Audiodo™ to do a quick and easy hearing assessment. Audiodo's breakthrough technology maps out a precise and thorough understanding of your unique hearing, calculates what changes need to be made and creates an Audiodo Personal Sound profile just for you. The sound profiling function applies compensation based on your personal sound perception and hearing abilities so you can enjoy the most true-to-nature, signature sound of PSB through your headphones.
RoomFeel™
RoomFeel technology adds realism back to any recording without altering the original audio signal. Using precisely designed target curves, RoomFeel makes the music feel less 'in your head' by recreating an open and natural in-room listening experience through the M4U headphones.